All content pages in CLUB View can have a file link attached. This allows the club to post documents such as a PDF forms on the website. (Please note this is only available for content pages; if you are unsure of the distinction you can read our guide on Sections, Categories and Content Pages).
What a file link does
File links appear in one of two ways, depending on the page content:
If the content page has just a title and a file link (i.e. there is no template and/or text) then when people see this content page on the site (e.g. listed on its parent category page, or on the homepage) clicking on it will take them straight to the linked file. In other words, it appears to to people viewing the site that the content page is the file.

This can be useful when you want create a list of documents within a category, for example committee minutes or competition results.

If the content page has a template and text added to it then clicking on the page will take the user to page as normal, and the attached file will appear alongside the page's text.

This can be useful when you want to include a file such as a PDF file as a link below the main text of the page, for example to attach an application form alongside an news item about a forthcoming competition.
Adding a file link
When editing a page scroll down to the section titled "File Link". It should appear similar to the image below: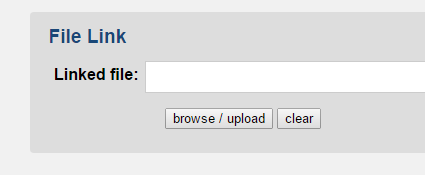 You can click the 'browse / upload' button to open the file manager. If the file is not already uploaded to the site files you can do so now. In order to select the file you can either:
Click the file name or icon
Click checkbox next to the file and then clicking the 'insert' link in the bottom right.
You will then be returned to the main editing view for the page and the file name will appear in the 'Linked file:' field.
All you need to do now is finish any other edits you wish to perform on the page and then click the 'update' or 'create' button.