When working on SEO it is common to customise the 'meta description', custom URL and 'title' of a webpage. (For further details please consult our search engine optimisation tips.) All three of these webpage attributes can be set while editing a page on your CLUB View website:
The custom URL is labelled as the "SEFU" (search engine-friendly URL) in CLUB View. You can only use lowercase letters (characters a-z), numbers (digits 0-9), hyphens (the '-' character) and underscores (the '_' character) if you choose to customise a page's SEFU.
There is no default page meta description, but one can be entered on any section, category or content page.
The default page title (as used for SEO) is created by combining the CLUB View page title (as shown in the website navigation menu and other automatically generated links on the site) with the website name. For example, a section page entitled "Membership" on a site called "Viewchester Golf Club" would default to an SEO page title of "Membership : Viewchester Golf Club". You can override this by setting your own SEO page title in the "alternative page title" field.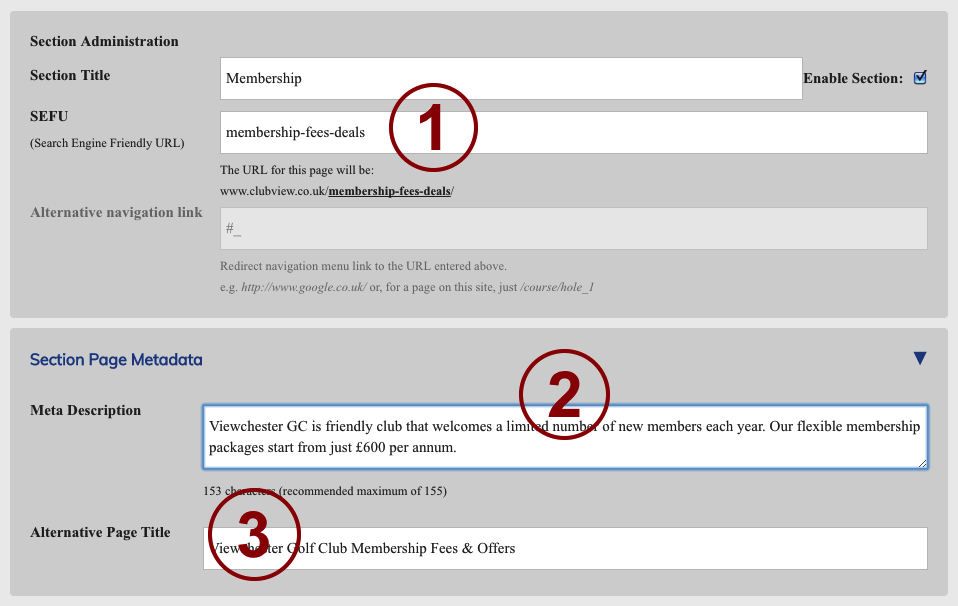 Homepage meta description & SEO title
You can also set the meta description and SEO page title for the public homepage of your website. To edit these settings simply log in as an administrator, then click on the "homepage" tab.